The Electric Bra - anonymous, 3:00, video
Underwear with blinking lights on it... what will they think of next? This honest-to-god promotional video for an inventor hopeful of becoming Madonna's costume designer was the filmmaker's first paying gig out of college. The filmmaker wishes to remain anonymous, and you'll see why.
Love and the Monster - Miles Montalbano, 11:00, Super8 (shown on video)
A black comedy about loneliness and alienation, fantasy and reality, and one man's search for love in all the wrong places. Adapted from Gilbert Hernandez's "Love And Rockets" comic book, with an original score by Jonathan Richman, and Super8 camera work by MCF-fave, Danny Plotnick.
Gray Eminence Films, 323 Hearst Ave., San Francisco, CA 94112, 415-841-0425, grayeminence@earthlink.net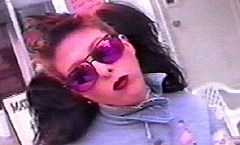 Scumrock - Jon Moritsugu, 79:00, video
From the man who brought us punk rock comedies like MOD FUCK EXPLOSION and TERMINAL USA (MCF '97), comes this story of rock-n-roll winners & losers, produced entirely on the now mostly-outdated format of analog-video. Miles (Kyp Malone) is a 28-year-old, pretentious, wannabe filmmaker trying to make the ultimate art film. With help from his pompous British DP, and his producer, a naive film student named Jelly, Miles is learning that failure is a big part of growing up. Likewise, Roxy (Amy Davis) is a struggling wannabe rockstar trying hard to remain hip, while her nemeses get all the recognition. Meanwhile, nice guy Crewcut's new girlfriend keeps making fun of him for having only one testicle, while hipsters await the arrival of controversial filmmaker, Jared Okubo (in a funny scene featuring cameos from filmmakers Craig Baldwin, Danny Plotnick, and Jon Moritsugu). SCUMROCK is full of original characters and situations, like a truly D.I.Y. hipster art film without all the pretentiousness. By proving it's the filmmaker and not the format, SCUMROCK puts the current DV revolution to shame.
Apathy Productions, PO Box 210535, San Francisco, CA 94121-0535, www.jonmoritsugu.com