THURSDAY, OCTOBER 31
MicroCineFest's Halloween Extravaganza at the Bengies Drive-In (3417 Eastern Blvd.).
Come celebrate Halloween with MicroCineFest and the Bengies Drive-In. What do we have in store for you?
Multiple old Horror and ODD coming attractions. A Halloween costume contest. The Bengies' Regular Twilight Opening. The Three Stooges in "SPOOK LOUDER" and "IF A BODY MEETS A BODY".
And best of all, the special director's cut of Jack Hill's classic 1964 masterpiece...
SPIDER BABY!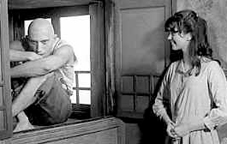 Starring Lon Chaney, Jr, in his last role ever, SPIDER BABY is just plain creepy and campy the whole way through. Chaney plays Bruno, a butler put in charge of the children of an inbred vegetarian family with a history of "disease" known as "progressive age regression". The "children" are played by grown adults. Sid Haig plays the brother. His two sisters (Beverly Washburn and Jill Banner) are murderous beauties, one of whom likes to play 'spider' - her playmates end up either dead or missing ears. When distant relatives come to take the children and the family fortune, it's Chaney who tries to keep them together. Unfortunately, it's the children who drag them deeper into the family 'secret', not to mention... the basement! From the silly theme song (sung by Chaney), to the open-for-a-sequel ending, SPIDER BABY deserves cult status right up there somewhere between FREAKS and FASTER PUSSYCAT KILL KILL.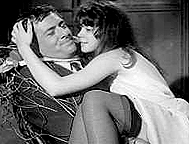 Then after SPIDER BABY, stick around for "RED BAND" previews of the past, which are R or X Rated, and not for children. A "heads up" will be provided prior to these coming onto the GIANT screen. We are saving these for the end of the program on purpose, so persons of all ages can attend the event.
And it all takes place at the wonderful Bengies Drive In Theatre!!!
Gates open at 6:00 PM, event starts at 7:00 PM
Everything should be wrapped up by around 10 PM, so that you can still make it to some of the other great Halloween events going on around town.
Only $5 per person!

All Bengies Drive-In rules apply. For rules and directions, visit their website at www.bengies.com
(details & schedule subject to change)