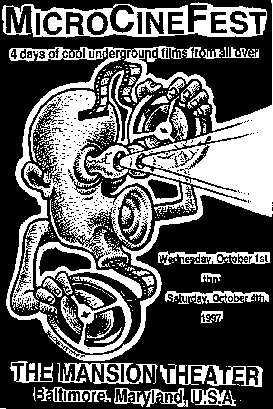 The First MICROCINEFEST was held
October 1ST - 4TH, 1997,
at The MANSION THEATER
Opening Night - Wednesday, October 1st
8:00 pm

HALF COCKED - 80 minutes, 16mm, director: Suki Hawley
This film from director Suki Hawley & cinematographer/co-writer Michael Galinsky has already achieved underground cult film status after a few years of touring festivals & underground screening venues all over the world. What happens when five penniless teens need to get out of town quick? They steal a van full of music equipment from one of their siblings and hit the road. This is the sometimes sad, sometimes hilarious story of their journey as a "band" through the South. Set in Louisville, Chattanooga and Nashville, the film stars members of the real bands Rodan, Crain, and Ruby Falls, playing in and staying at the places bands really go.
10:00 pm
A BENEFIT FOR JESCO WHITE'S NEW HOT WATER HEATER

DANCING OUTLAW - director: Jacob Young
DANCING OUTLAW II: JESCO GOES TO HOLLYWOOD - director: Jacob Young
If you don't know about Jesco by now, where have you been? What started out as a 1991 West Virginia public TV documentary has ended up an Emmy award winning bonafide cult film. DANCING OUTLAW introduces us to Jesse White - a man with three identities; he's Jesse ("a beautiful man"), he's Jesco ("the devil") & he's Elvis (uh... that's right, Elvis). He's the last great mountain dancer since his father died of a gunshot wound. He has a colorful family. His story has impressed people all over the country, including Roseanne Barr - who invited him to make a cameo on her show, thus inspiring the sequel, JESCO GOES TO HOLLYWOOD. Truth is stranger than fiction, and you need to see the true life adventures, heartaches, family get togethers, arguments, feuds and mountain dancing of Jesco and his family.

Those already familiar with Jesco may have heard the rumors that were going around. But the truth is Jesco DID NOT kill his wife - they separated. He is NOT in jail - he's staying at his mom's trailer because his burnt down - destroying all of his Elvis memorabilia. Yes, Jesco is alive and well and trying to raise money for a new hot water heater, and all ticket sales for this screening will go towards that cause. Donations of Elvis memorabilia are also welcomed.
---
Thursday, October 2nd
6:00 pm
THE LOCAL UNDERGROUND

A collection of mostly Super 8 shorts from Baltimore's underground film community compiled by filmmaker & Club Footage Cinema curator, Martha Colburn. (titles & filmmakers T.B.A.) If you're from the West Coast, be on the lookout for Martha's West Coast film tour in the next couple of months. In the meantime, enjoy some of her films and a few others at this screening:
Fastman Productions' SHANK director: David Morley
13th TRIBE director: Cheryl Fair
THE SUN director: Cheryl Fair
HEY TIGER director: Martha Colburn
I CAN'T KEEP UP director: Martha Colburn
WHAT'S ON? director: Martha Colburn
PERSECUTION ON PARADE director: Martha Colburn
I'M GONNA director: Martha Colburn
ASTHMA director: Martha Colburn
MY SECRET SHAME director: Martha Colburn
ZIG ZAG director: Martha Colburn

8:00 pm
ROBERT BANKS RETROSPECTIVE:


X: THE BABY CINEMA - 4.5 minutes, 16mm,
MY FIRST DRUG, THE IDIOT BOX - 5.5 minutes, 16mm,
M.P.G.: MOTION PICTURE GENOCIDE - 4 minutes, 35mm,
YOU CAN'T GET A PIECE OF MIND: THE ULTIMATE ROCU-DRAMA - 65 minutes, 16mm


It seems like every year at the underground film festivals, you can count on seeing the latest from Cleveland filmmaker, Robert Banks. The interesting thing about Banks' work is you never know what to expect. This retrospective features two of his earlier, award-winning shorts, MY FIRST DRUG, THE IDIOT BOX and X: THE BABY CINEMA (the latter being a mesmerizing experimental piece that appears on the Best Of The New York Underground: Year One video). His latest, M.P.G.: MOTION PICTURE GENOCIDE, was made from scraps left over from another film and tells Banks' commentary on the current state of the mainstream film industry. However, the film we recommend is YOU CAN'T GET A PIECE OF MIND, a documentary about underground Cleveland music legacy Dan Smiley (aka Supie-T). Dan is a shell shocked Vietnam vet turned punk rock singer who talks the ears off of any member of Cleveland's underground music scene willing to listen to him. He has achieved legendary status not just for his baffling "cutting edge" performances, but also for his long-running infatuation with a female college radio disc jockey. While she has taken to avoiding Supie-T, he makes suicide threats to bring her out of hiding. Banks suffered two years making this, despite the lack of cooperation from Supie's bandmates and occasionally Supie's unwillingness as well. WARNING: The reality of this documentary might creep you out, but at least you'll know you'll only be watching it on a screen and not experiencing it in real life.
10:00 pm
PIECES - 90 minutes, 16mm, a film by the Russo Brothers
Cleveland's Russo Brothers (Joe & Anthony) sold their hair to finance PIECES. A sinister comedy about three crazed Italian American brothers in a failing hair piece business, haunted by the shame of a bungled robbery, who attempt to redeem themselves by perpetrating the most harried crime of their lives - to steal their competitor's client list and sell it for big bucks so that they can pack up and move to Italy. Reminiscent of Scorsese's MEAN STREETS and the Coen Brothers' BLOOD SIMPLE, with a great soundtrack and a new approach to the Italian gangster genre.
---
Friday, October 3rd
6:00 pm
SORE LOSERS - 80 minutes, 16mm on video, director: John Michael McCarthy


Written and directed by comic book creator J. Michael McCarthy (TEENAGE TUPELO), The SORE LOSERS is a film for fans of Horror, Sci-fi, and Juvenile Delinquency Films of the past plus Lo-fi Garage and Punk Rock music. Set in present day Northeastern Mississippi and Memphis, Blackie (Jack Oblivian) returns to Earth 42 years after his first visit, having been given a second chance by The Elder of the Lo-Fi Frequency (Sexploitation pioneer of the '50's and '60's DAVID F. FRIEDMAN) to finish his original mission. He hooks up with his old friends Mike (Mike Maker), Kerine (Kerine Elkins) and Goliatha (D'lana Tunnell) to kill hippies, while being pursued by the 'FBI' from outer space, The Men In Black (played by Tokyo punks GUITAR WOLF). SEE HOODLUMS vs. HIPPIES! SEE an Angel descend from Heaven ... with a beer in her hand! SEE the screens first catfight IN AN ELECTRIC CHAIR! SEE David F. Friedman in his first role in 25 years! SEE the city of Memphis leveled by powerful forces from outer space! SEE the Flashback Hippie Party Death Scene! SEE a lime green AMC Pacer in a weird face off with a UFO powered '55 Chevy! SEE an asylum where the Headnurse hasn't aged in 42 years! SEE THE NEW FILM FROM BIG BROAD GUERRILLA MONSTER!!!
8:00 pm
PROGRAM OF SHORTS featuring...
A FEW SHORTS FROM BIANCA BOB MILLER - video

NUMBER ONE LOCAL - HARRY NUGENT
CAFE ME
AIN'T GONNA PEE IN THE CUP
Bianca Bob Miller is a New York based media artist. She uses whatever technology she can get her hands on to get the job done, mixing in plenty of her music, humor, style design and quirky ideas. Expect to be introduced to an eccentric subway conductor, and learn just how much Bianca will not stand for certain job application procedures. Some may remember Bianca as the piano player in the late-80's all-toy instrument band, Pianosaurus. This screening is just a sampling of Bianca's work. She'll be returning to the Mansion Theater at a later date for a more in-depth retrospective that will hopefully coincide with a live musical performance as well.
AN INCREDIBLE SIMULATION: THE TRAILER - 4 minutes, video, directors: Jeff Economy / Russ Forster / Darren Hacker / Dan Sutherland

Just a taste of what's to come. This is the trailer for an upcoming feature documentary about tribute bands. Some of you may recognize Russ Forster & Dan Sutherland as being the makers of SO WRONG THEY'RE RIGHT - the cross-country documentary about 8 track tape collectors. If that's any indication, AN INCREDIBLE SIMULATION is well worth the wait.
VELVET WELK - 2.5 minutes, video director: Darren Hacker

Lawrence Welk meets Velvet Underground. What more can we say?... or Sister Ray for that matter? An earlier piece from one of the co-directors of AN INCREDIBLE SIMULATION: THE TRAILER.
SHORTS BY KEN HEGAN
FARLEY MOWAT ATE MY BROTHER - 7 minutes, 16mm
WILLIAM SHATNER LENT ME HIS HAIRPIECE - 13 minutes, 16mm
Canadian filmmaker, Ken Hegan, crams more laughs into his short films then Hollywood manages in an entire feature length comedy. And best of all, the titles of his films tell you exactly what they're about. FARLEY MOWAT ATE MY BROTHER is obviously a film about Canada's favorite children's author turning out to be a ruthless cannibal who eats Ken's little brother, Tony. WILLIAM SHATNER LENT ME HIS HAIRPIECE says it all - except it doesn't tell you it's a hairpiece with magical powers - responsible for Shatner's career. Hegan is currently finishing up his "mockumentary", AARDVARK, in Vancouver.

KID NEW YEAR & BILLBOARD -
8 minutes, 16mm director: Michael Dante DiMartino


Anime rivaling animation with lots of jokes and sight gags. Kid New Year plays video games on the video screen on his buddy, Billboard's chest, while riding around underground in an ice cream truck searching for the Holy Grail. Things get crazy when competition arrives in the form of the baby-tee wearing, lunchbox toting, rival girl gang - the Alligator Girls. Director Michael Dante DiMartino is one of the people behind TV's "King Of The Hill."

WHO DO YOU THINK YOU'RE FOOLING? and YOU'RE STILL NOT FOOLING ANYONE - 12
minutes, video, director: Mike White
Mike White was a big fan of Quentin Tarantino's RESERVOIR DOGS until he discovered some blatant plagiarism that prompted him to expose the truth in WHO DO YOU THINK YOU'RE FOOLING? After much controversy and another Tarantino movie, Mike made a sequel, YOU'RE STILL NOT FOOLING ANYONE. Both videos trade image and sound between the original and the rip off, allowing you to see exactly where QT got some of his ideas. What is the result of all this? Mike seems to have landed himself on the top of the anti-Tarantino movement, despite the fact that he still likes Tarantino's work and doesn't consider himself "anti-Tarantino". He has also ended up banned for life from the New York Underground Film Festival and he publishes one of the coolest film mags ever, Cashiers Du Cinemart, whose webpage can give you a lot more background on the story than this blurb can.
EVIL DEMON GOLF BALL FROM HELL - 8 minutes, 16mm, director: Rian Johnson
Even the simplest description of this film's story gives away too much. Let's just say the title is very accurate. There's crime, murder, revenge and a golfball all packed into a concise, entertaining 8 minutes. It's funny, but most of all, it'll make you think twice about killing a golfer.
10:00 pm
DON'T QUIT YOUR DAY JOB: THE FILMS OF JEFF KRULIK & FRIENDS - 90 minutes, video

DC filmmaker Jeff Krulik brings a collection of mind-blowing videos made over the years by him and his friends. The most well known, and anticipated, is HEAVY METAL PARKING LOT - essentially a trip to the Capitol Center (US Air Arena) parking lot before a 1986 Judas Priest / Dokken concert to meet the colorful folks who showed up early. Must be seen to be believed - it'll make you embarrassed to be human. As if that weren't enough, Jeff returned 10 years later to make a sequel, NEIL DIAMOND PARKING LOT. And that's just a taste - expect to see wrestling star, Classy Freddie Blassie - King Of Men, take a day trip to our nation's capitol, Earnest Borgnine tour the country in a bus, a man who collects porn, and outtakes from some of the craziest public access shows imaginable.
---
Saturday, October 4th
4:00 pm
3 DOCUMENTARIES...


RAINBOW MAN / JOHN 3:16 -
41 minutes, 16mm director: Sam Green
You might not know Rollen Frederick Stewart's name, but chances are you'd recognize him if you saw a picture of him from the 70's and early 80's. Rollen became a celebrity by wearing a rainbow wig to sporting events all over the country and doing anything to get on camera. He ended up in commercials and became widely recognized. Then he found God and started living out of his car, adding "John 3:16" to his persona. But in 1992, Rollen ended his "career" by taking a hotel maid hostage and demanding a 3-hour TV press conference in order to warn America to repent before the world ended in six days. What he got instead were three life sentences in a California prison. Sam Green documents all of this, with loads of archival footage of Rollen doing his thing, plus interviews with the people in Rollen's life and even a recent exclusive interview with Rollen himself, filmed in jail.
TAKE A TRIP WITH JEFF - 17 minutes, 16mm, director: Lance Weiler
TAKE A TRIP WITH JEFF has been one of the most requested films in the history of the screenings at the Mansion Theater. This house favorite is a documentary about Jeffery, a man who sings, dances, writes songs, has a shower in his living room and loves Gumby - but all he really wants is a girlfriend. Learn his philosophies on food, shopping, the singles scene, pets, and a whole lot more. Director, Lance Weiler, is currently finishing up a feature, THE LAST BROADCAST, that's making headlines for coming in on a budget of $900 thanks to digital technology.

Picture of Adamson and Sisneros taken by
Adamson's murderer a few days before the crime.
AL ADAMSON: DRIVE IN MONSTER - 21 minutes, video/16mm, director: Chad Sisneros

Al Adamson was the "other" Roger Corman, who's films your parents wouldn't let you go to see. He was the king of no-holds-barred exploitation filmmaking. Here's just a sampling of some of his titles; Satan's Sadists, I Spit On Your Corpse, Blazing Stewardesses, Angel's Wild Women, The Female Bunch, Blood Of Dracula's Castle, Dracula vs. Frankenstein, Girls For Rent, Jessie's Girls, Cinderella 2000, Blood Of Ghastly Horror... the list goes on and on. Director Chad Sisneros includes clips from many of Adamson's films plus footage from an interview he did with Adamson just days before his murder, making this the last interview Adamson ever did.
6:00 pm
DANNY PLOTNICK SHORTS RETROSPECTIVE
SUGARBUTTS - 3.5 minutes
SKATE WITCHES - 2.5 minutes
PIPSQUEAK PfOLLIES - 23 minutes
FLIP ABOUT FLIP - 3 minutes
DEATH SLED II: STEEL BELTED ROMEOS - 10 minutes
I'M NOT FASCINATING: THE MOVIE - 50 minutes
San Francisco's Danny Plotnick is considered to be "the King Of Super 8", a title he has earned after many years of championing a format that much of the filmmaking community has abandoned. Danny's reputation continues to grow through his Super 8 workshops and the release of his videos, SMALL GAUGE SHOTGUN and the feature length Super 8 opus, I'M NOT FASCINATING: THE MOVIE. We're pleased that Danny is allowing us to show a collection of earlier shorts, some of which are not available on video, that he has recently blown up to new 16mm prints, and some that have already found a strong audience on the home video market.
8:00 pm
A PROGRAM OF SHORTS, featuring...

LOAFING -
14 minutes, 16mm, director: Duane Lavold

One of the best shit-films in the history of cinema. Public restroom competition at it's best.
THE CONFESSION - 19 minutes, 16mm, director: Edwin Baker

This film is tearing up the festival circuit this year and is already eligible for an Academy Award. Recently it won the audience choice award for best short at the Chicago Underground Film Festival. THE CONFESSION is the amusing story of what happens to the poor guy who gets the wrong priest for his first return to the confessional in years. It'll make you glad to be an atheist (that is, if you are - if you aren't you might end up reconsidering after watching this).

REPAST -
15 minutes, 16mm, director: Paul E. Burke Jr.

The story of a guy who uses his psychic abilities to become "Foodini" - capable of analyzing your handwriting and then telling you what you had for dinner last night. It's a pretty good living until the cannibal shows up. Chattanooga, Tennessee's Paul E. Burke Jr. was a projectionist at Slumdance back in January and currently sets up film screenings in his home town in between working on his own films.

KILLING TIME - 30 minutes, 16mm, director: Adam Davis
Director Adam Davis plays Tex and New York Underground Film Festival honcho Todd Phillips (HATED: THE GG ALLEN STORY) plays Weasel - two slackers who have decided they're bored enough that killing someone might make life a little more interesting. It's not as grim as it sounds - in fact, it's hilarious. Neither character has it in him to take a life but they try anyway. Davis' use of sound effects and music is brilliant and both actors turn in great performances.
ANGRY MAN - 15 minutes, 16mm director: David Baer
Meet the Angry Man and find out what makes him so angry. Santa Monica's David Baer adds to his "Shave Against The Machine" short film to explore his anger in a more in-depth study. The result is pretty funny. If you're unsure of who to hate and why, Angry Man can give you the answers you're looking for. Anger has never been so funny.
MEAT - 16 minutes, 16mm, director: Jason Hernandez-Rosenblatt
A very funny film in which 16 year old Annabelle's mother gets carpal tunnel syndrome and can no longer work as a masseuse, and therefore cannot afford to feed the family... that is unless she feeds her patients to the family. Cannibalism solves the problem, but things get ugly when Annabelle becomes a vegetarian and her family takes a bite out of her love life. MEAT has been shown at several festivals including Slamdance and NYUFF, and recently won the Best Short award at this year's Chicago Underground Film Festival.
10:00 pm
I WAS A TEENAGE SERIAL KILLER -
27 minutes, director: Sarah Jacobson
An early short from Sarah Jacobson (MARY JANE'S NOT A VIRGIN ANYMORE) in which a teenage girl goes on a killing spree, taking out guys who say or do sexist things in her presence.

TERMINAL U.S.A. - director: Jon Moritsugu
Many fans of Jon Moritsugu (MY DEGENERATION, MOD F*CK EXPLOSION, FAME WHORE) have heard about his TERMINAL U.S.A. because of the controversy surrounding it. Now's their chance to finally see it. Described as "Father Knows Best" meets "Pink Flamingos", TERMINAL U.S.A. is a hilarious, post-punk apocalyptic soap opera about a disfunctional Asian-American family - with Moritsugu playing a dual role as twin brothers Kazumi and Marvin, one of them an ultra-grungey drug dealer and the other a computer nerd with a secret hankering for phone sex with skinheads. Their mother is addicted to their grandfather's medication. Their sister, Holly, is a pregnant nymphomaniac cheerleader. And their father is a country music fan preparing the clan for Armageddon. This family is on a one-way path to domestic doom in this outrageous farce filled with blood, guts and kitsch.
---
Throughout the festival, there were free, impromptu, midnight screenings of festival favorites and rareties such as the Robert Tilton Fart Video, Todd Haynes' Superstar: The Karen Carpenter Story, Circus Of Pain (the Family Circus Easter Special with new dialogue), Todd Graham's Apocalypse Pooh/Blue Peanuts/God Save The Archies, Hearing Aid (the making of a heavy metal charity benefit record), Kiss Meets The Phantom, Mike Rocker's Highway To Hell and much more.