The Mansion Theater
The Mansion Theater is actually a former funeral home. The landlords bought the building in the early 70's and turned it into a coffee house that also served as one of the only live folk music venues at that time. Eventually, it became a group house for miscellaneous students, artists, musicians, all-purpose-bohemians and general working class people.

In 1993, housemate Skizz Cyzyk, having already lived there for two years and seeing the need for an outlet for Baltimore's underground film community, started holding film screenings in what was once the funeral home's viewing room. Very quickly, the screenings took on a life of their own and a strong reputation for being one of the few places in Baltimore to see any kind of underground film. Aside from the H.O.M.E. Group's Monthly Independent Open Film & Video Screening (usually held on the middle Wednesday of each month), the Mansion has hosted many out of town films & filmmakers, including Danny Plotnick, Russ Forster, Craig Baldwin, Mike White, Patrick Hasson, Mark Street, Jeff Krulik and John Heyn.

Click here for a listing of screenings that happened at the Mansion Theater.

The Mansion has also served as rehearsal space for many Baltimore bands (and even San Fransisco's Skankin Pickle for a day), and has hosted some amazing parties with live music from national bands, including The Mommyheads, Egghead., 30 Amp Fuse, Rocketship, Henry's Dress, Trusty, Sea Tiger, Nord Express, The Hissyfits, and local bands like The Put-Outs, Stress Magnets, Sick, Meatjack, Berserk, The Jennifers, The Kicksouls, The Beltways, Garage Sale, Frankentractor, and many more.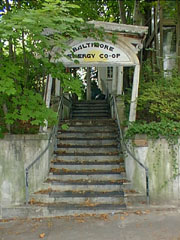 Click here for more pictures inside and outside the Mansion.
After seven years at the Mansion, Skizz Cyzyk moved out, discontinuing the film screenings at that location. He still sets up film screenings at various locations in and around Baltimore.
To learn more about the Mansion Theater, read Joseph Christopher Schaub's in-depth article, MICROCINEMANIA: The Mansion Theater & Underground Movie-Making In Baltimore, Maryland, USA, from LINK: A Critical Journal On The Arts In Baltimore And The World.
The Mansion Theater is located at 4201 York Road, Baltimore, MD 21212 (on the corner of York & 42nd Street - where York becomes Greenmount).
webmaster: scott 'unpainted' huffines,
atomic books, 'literary finds for mutated minds'