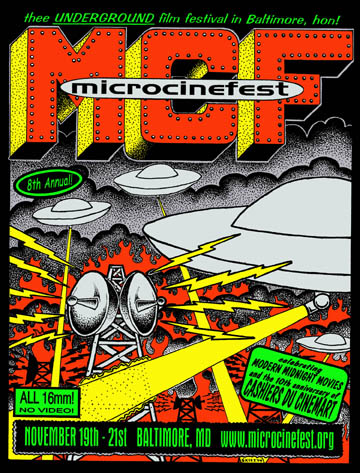 MicroCineFest 2004

The 8th edition of Baltimore's underground film festival is coming soon!
We are pleased to announced that MicroCineFest 2004 will take place Friday, November 19 through Sunday, November 21 at The G-Spot (2980 Falls Road, near Chestnut Avenue in Hampden) .
The festival coincides with the release of Cashiers du Cinemart (CdC) #14 -the gala tenth anniversary issue. In the issue, CdC's editor and frequent MCF juror, Mike White, and MCF festival director, Skizz Cyzyk, have put together a list of films from the past decade that would have been hits on the midnight movie circuit had that circuit continued to exist. Much of the programming for MCF 2004 will consists of films from that list, some of which have shown at MCF in previous years.
CLICK HERE FOR COMPLETE DETAILS ABOUT MCF 2004, INCLUDING
SCHEDULE, FILM DESCRIPTIONS, TICKET PRICES, AND DIRECTIONS.

FRIDAY, NOVEMBER 19
8 PM: Jesus Christ Vampire Hunter - Lee Demarbre, 85 minutes, 2001
10 PM: SHORTS PROGRAM
Squeal Of Death - Alex Winter & Tom Stern, 16 minutes, 1986
Gravity - David Wechter & Michael Nankin, 8.5 minutes, 1976
Quasi At The Quackadero - Sally Cruikshank, 9.5 minutes, 1975
Herd - Mike Mitchell, 18 minutes, 1998
Cat Number Six Is A Coward - Jerome Gariepy, 7 minutes, 2000
Shank - David Morley, 33.5 minutes, 1995
Midnight: if an earlier screening sells out, it will be repeated at midnight
SATURDAY, NOVEMBER 20
6 PM: Acne - XXXXXXXXXXX, 72 minutes, 2000
8 PM: Harry Knuckles & The Pearl Necklace - Lee Demarbre, 120 minutes, 2004
10 PM: Spectres Of The Spectrum - Craig Baldwin, 94 minutes, 1999
Midnight: if an earlier screening sells out, it will be repeated at midnight
SUNDAY, NOVEMBER 21
6 PM: Surrender Dorothy - Kevin DiNovis, 90 minutes, 1997
8 PM: Daddy Cool - Brady Lewis, 84 minutes, 2002
10 PM: Crime Wave - John Paizs, 80 minutes, 1986
For more about Cashiers du Cinemart visit www.cashiersducinemart.com