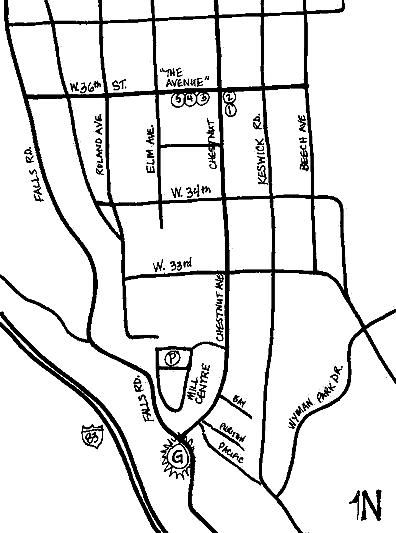 INSTRUCTIONS ON HOW TO FIND THE G-SPOT: (snicker)
"G" - The G-Spot, 2980 Falls Road.
"P" - Parking is available off Chestnut above the Mill Center.
ALERT: Construction currently blocks the intersection of Chestnut Avenue and W. 33rd Street.
From the north: Take South I-83 to the Coldspring Lane exit east towards Falls Rd. Make a left at the top of the ramp. Make a right onto Falls Rd. (continued*)
From the south: Take I-83 north to Falls Rd. exit - you will be going north on Falls Rd. Make a u-turn and head in the opposite direction. (continued*)
*Follow Falls under the overpass and veer right/straight at the stop sign. At the bottom of the hill, veer left at the ÒTÓ to continue on Falls.
FOR PARKING: turn left onto Chestnut Avenue, left onto Mill Road, and right into the Mill Center parking lot. The G-Spot is on Falls Road (2980 Falls Road), on the right, just past Chestnut Avenue. Look for signs to both MicroCineFest and parking.
From downtown Baltimore: Take Charles Street north. Make a left onto Lafayette (just north of The Charles Theatre), cross Maryland Avenue and make a right onto Falls Road. Follow to the G-Spot. For parking, go past the G-Spot and make a right onto Chestnut Ave. and follow the directions above.
Please do not park in the parking spaces belonging to tenants at the G-Spot building.
back